A case study on growing a startup to a billion dollar company
7 years ago Zalando was just an inspiration; it was born from Robert Gentz'z fascination of the recently sold German startup StudiVZ which fetched €85 million. After a failed attempt of their first startup, Unibicate, a social media site for Universities in Mexico, David Schneider and Robert Gentz, with the backing of Rocket Internet's Oliver Samwer, launched Zalando. It was a well-executed clone of the US Zappos, which quickly expanded beyond retailing shoes.
Once a novel single-country startup, Zalando has become a 6-Billion-Euro company and Europe's top Fashion retail platform. In 2008, Zalando served only Germany, five years later they were serving fifteen European countries.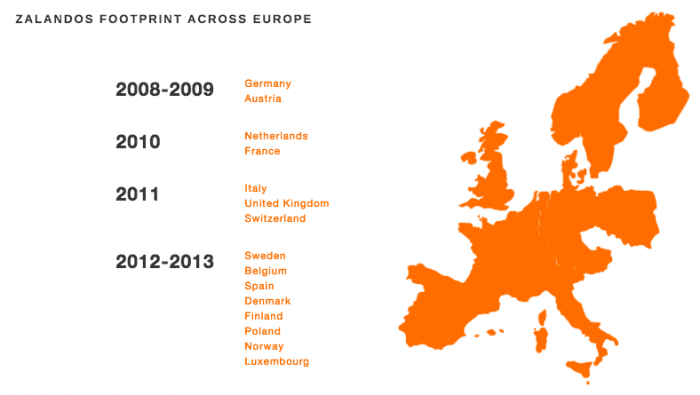 So Zalando gives an excellent international Ecommerce and digital marketing case study of how digital media and technology can be used to enter new markets. Now, Zalando sell over 1500 international brands, including the premium brands shoppers know and expect, as well as localized brands that are only available per country. For each of the fifteen tailor made websites per country they serve, they include customized shipping, payment, fashion, and marketing strategies unique to the culture and country.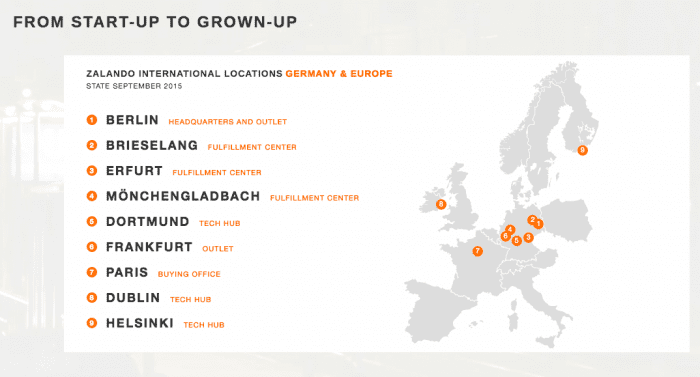 Zalando is popular and successful for many reasons. With a media, content and merchandising and localization strategy applied to each country, an amazing customer satisfaction program, a unique focus on the mobile experience, and their unique fashion platform that allows brands to reach their audience easier than ever before. We have seen Zappos present at a conference on the scale of their AdWords programme and we think this is particularly important as a method for them to gain awareness since other online media techniques like SEO (too slow to grow an audience rapidly in a competitive market), Social media (relatively poor at impacting social media sales) can be lacking to gain traction in a market. Using AdWords and offline advertising plus the distribution infrastructure requires a significant investment, so substantial initial backing is needed for an international ecommerce business like this evident since it took four plus years to break even in the core regions of Germany, Austria and Switzerland.
They have transformed the online world of retail apparel shopping, and they are not stopping there. Their new vision, is leaving behind Zalando as a pure online retailer and transforming into a fashion platform that allows designers to reach their audience easier than ever before, and become the one-stop shop for fashion.
You can read more on the history of Zalando's growth on their corporate site or check out the infographic below, provided by Bargain Fox, to learn more about the rise and the explosive growth of Zalando from a startup to Europe's leader of online fashion retailer.
[SmartInsights]